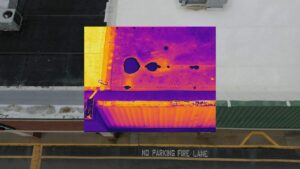 SPRAY FOAM ROOFING FOR COMMERCIAL ROOF REPAIR
Is Your Roof At Risk?
Is Your Roof Saturated?
Is There Hidden Roof Damage?
Do You Know Your RoofScore™?
Get Your Free Infrared Drone Inspection!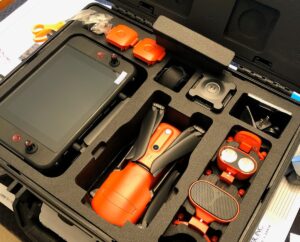 Welcome to Armour Commercial Roofing  We are South
Carolina's premier provider of SPF roofing solutions for commercial buildings.
SPF Roofing may be the alternative to commercial roof replacement that you have been looking for!
We all know that replacing a commercial roof is a capital-intensive, time-consuming process that is often very disruptive to business operations. As a leading commercial roofing solutions provider, we work to make this necessary process as affordable and easy as possible.
The SPF Roofing Quote Process: In order to best serve our client's commercial roofing needs, we have developed a commercial roofing inspection and quoting process, utilizing infrared drone technology.  Schedule a commercial roof inspection and we will use infrared technology to identify saturated areas of your TPO roof.  The percentage of roof area that is saturated is part of creating your custom RoofScore™!
What if you could fix your current roof and:
Spend far less than a roof replacement

Cut your energy costs by dramatically increasing the insulation value of your roof

Avoid the inconvenience of roof 'tear-off'

Add 10-20 years to your existing roof!
Spray polyurethane foam (SPF) is a Proven Solution. SPF and thermoplastic polyolefin (TPO) are the most common roofing systems in use for commercial and industrial buildings.
While some people are not familiar with the term SPF, SPF roofing technology has been a proven roofing solution for retail buildings, malls, apartments and other similar structures for over 60 years.
SPF roofing systems are applicable to any climate, and if correctly installed and maintained, an SPF roof can last for over 50 years.  
Spray Polyurethane Foam is an eco-friendly roofing option for commercial, industrial and manufacturing facilities
HOW IS A SPF ROOF INSTALLED?
Spray Polyurethane Foam Roofing, or spray foam roofing, is a material that's sprayed as a liquid so it can expand into a foam, creating a solid layer across an existing roof. Spray foam roofing systems will seal and reinforce the existing roof while also adding insulation to help save on energy expenses. Spray Polyurethane Foam (SPF) is mixed on-site, by combining two highly reactive chemicals.  Because of this, specific weather conditions including a temperature of 50 or above and rising – with little to no wind are needed.
Spray foam is used to repair and extend the life of existing commercial flat and low-angle roofs – including metal roofs.  SPF offers a lower-cost solution to traditional commercial roof replacement, that can add 20 years to your roof while avoiding the business interruption, mess and costs associated with roof replacement.
Increase R values

decrease energy loss / use

cut energy expenses
.Spray Polyurethane Foam For Commercial Flat Roofs
The benefits of installing a spray polyurethane foam (SPF) roofing system
SPF exceeds traditional roofing systems in terms of durability, energy savings and reduced maintenance costs.
SPF roofing expands and contracts with the buildings as temperatures change, decreasing the likelihood of cracks and splitting which can lead to saturation and leaks.
SPF roofing contributes to significant energy savings throughout the life of a building. In fact, studies show that the average  period for a new foam roof to pay for itself through energy savings can be as little as five years
Installing Spray Polyurethane Foam solutions gives your business a long-lasting, reliable roof that provides energy savings, reduced maintenance, and sustainability.
Spray polyurethane foam roof systems:
decrease energy expense

contribute to LEED and Energy Star certification (SC?)

provide a self-sealing heat, moisture and air barrier

are low cost and easy to maintain

can be easily renewed to extend roof life
SPF roofing is waterproof, while TPO roofing is only water-shedding. Why does that matter?
TPO roofing has a multitude of seams and fasteners, each representing a potential point of failure.  SPF is seamless, self-sealing, self-flashing and custom-fitting, greatly reducing the risk of failure.
"R" Value of SPF Roofing
The R-value is the way a material's thermal resistance—or energy efficiency—is measured, and it's considerably higher (which means better) for SPF than TPO. With TPO, the R-Value is only about 5.5 per inch. SPF's R-value is approximately 6.9 per inch.